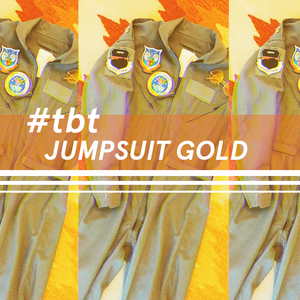 #TBT Jumpsuit Gold
At East + Up, one of our favorite vintage finds are utility suits, and we are always on the look for them! We have utility suits from the Navy, spaceships, and varying U.S. organizations. 
This week's #ThrowbackThursday find is this blue/grey utility suit from the North American Aerospace Command (NORAD), formerly known as the North American Air Defense Command. NORAD was established in the 50's, and it is a combined organization of the U.S. and Canada. NORAD controls aerospace warning, air sovereignty, and protection for North America.
These exact suits were the official uniforms for the airspace staff during the 1980s! We found one!

 

We imagine a guy named Johnny Alan wearing this suit, slow-walking down the takeoff runway to hop in his badass aircraft with his helmet in hand. He winks at the camera before taking off in the sky.
We can see it…can you? Come try it on & see for yourself…the epic legend behind the blue/grey jumpsuit.
It is one-of-a-kind, so grab it before the next Johnny Alan comes along.
---